Frequently Asked Questions
1. Do I need an appointment to view bridal gowns?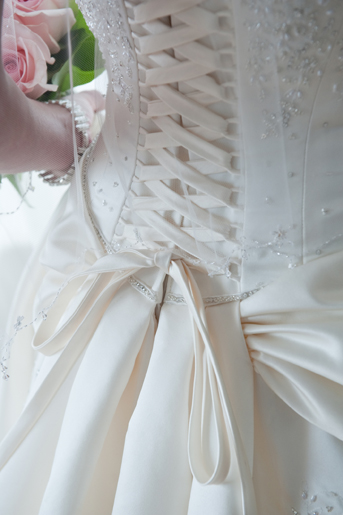 It is recommended if you would like personal attention, but feel free to stop in anytime.
2. When should I start shopping for my gown?
It is best to start looking for gowns 6 to 9 months prior to your wedding date. The majority of our brides begin shopping 1 year ahead. That allows you enough time to narrow down your selection and order the gown of your dreams. Don't let the time bracket worry you because even if you do not have that much time there are a few different ways Antonia's Bridal can accommodate you.
3. Can you explain what types of payments do you accept and what is your return policy?
We require 50% down in when ordering a gown, 50% down for alterations. Once an order is placed and the deposit sent, your order can not be cancelled.
We accept: Visa, MasterCard & Discover, Personal Check.
4. What sizes are available?
Antonia's Bridal gowns are available from size 2 through 30. Mikaella gowns are custom made to fit.
5. Can I make the train longer on a bridal gown?
Yes., extra material can be ordered when you purchase your gown.
6. What line of gowns can I buy from Antonia's Bridal?
We carry Kitty Chen Couture gowns, Mikaella Bridal gowns, Val Stefani gowns and Moonlight Bridal gowns. We carry gowns for the rest of your wedding party, including Mother of Bride Gowns from Val Stefani, Macis Designs, Lara Design, and Feriani Couture. Also prom gown from the hottest designers: Riva Designs, Clarisse, BG Haute, Scala, and Val Stefani.
7. Is there any other color I could wear besides white and still look like a bride?
Lately many brides are incorporating color into their gowns. You can have colorful embroidery and beading or simply have a baby blue sash. You do not have to wear a white gown. Most designers offer different shades of white, ivory, and champagne. We have a selection of gowns with color as well as gowns that can be customized to have color accents of your choice.
8. Can I order extra fabric or get a swatch of material?
Yes, at the time of purchase.
9. What should I bring to my Bridal Fitting?
At your fittings, you will need to bring your shoes and undergarments that you will be wearing on your wedding day. They are necessary for the hemline and bodice alterations.
10. I already have my gown. can Antonia's Bridal do the alterations?
Certainly, Antonia has 40 years of alteration and dress design experience.
11. I only need a veil. can Antonia's Bridal help?
Of course, we can provide your headpiece and veil to perfectly accent the gown you choose.
12. Do you carry other accessories?
Yes, we carry purses, headpieces, and jewelry to compliment your gown.